I did some rummaging thru my old journals and I found this little gem in one of my art notebooks. You see, I have this habit of jumping from one thing into another, and last year, I promised myself that I'll practice using watercolor as an art medium. This recipe was one of my attempts to combine the three things I loved back then: experimenting with tea and coffee blends, watercolor art, and journaling.
I hope you also give this recipe a try and I hope you enjoy!
---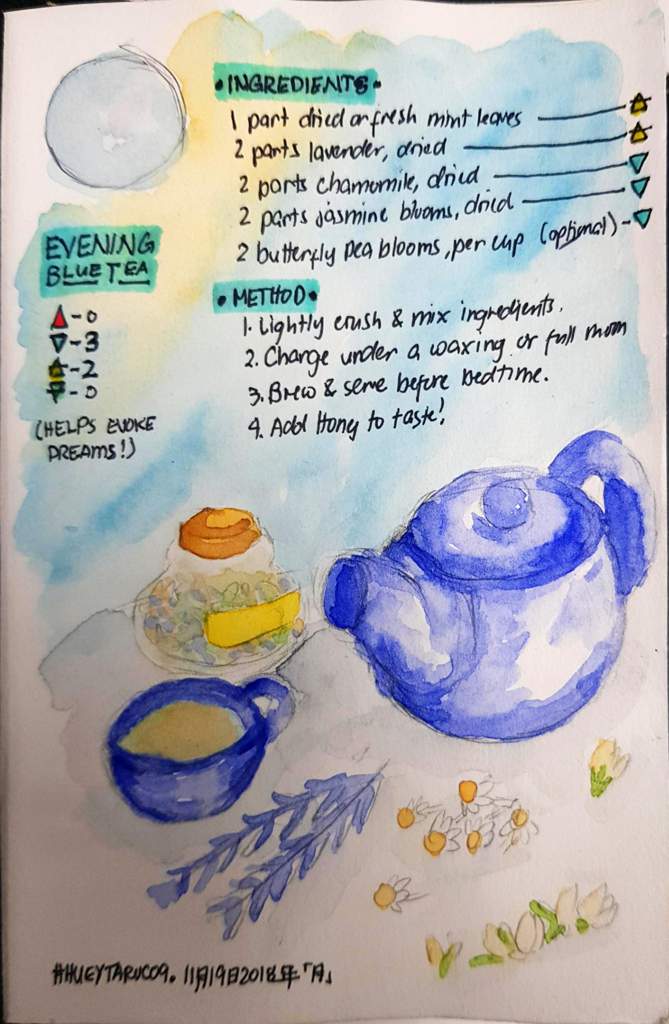 Evening Blue Tea Blend
Servings: 1-2 Cups
Difficulty: Easy
A simple mix of evening herbs to not only help you relax for the night, but also help you in your evening meditations
Ingredients
🜁 1 Part Dried or Fresh Mint Leaves
🜁 2 Parts Dried Lavender
🜄 2 Parts Dried Chamomile
🜄 2 Parts Dried Jasmine Blooms
🜄 1-2 Butterfly Pea Blooms per Cup
🜄 Honey to serve (optional)
Directions
Lightly crush and mix the ingredients using a mortar and pestle.
Place the ingredients in a tightly closed jar. Place the jar somewhere the moon can shine and let it charge. Best done under a waxing or full moon.
Prepare and steep the blend as you would on a regular tea.
Add Honey if you want a bit of sweetness!

Tip: You can scale this blend based on the number of servings you want to make and make a large batch!